Don't get me wrong, Super Smash Bros. for 3DS and Wii U are some of my favorite games for those respective systems, but is it okay to nitpick minor announces yet?
I've been a Smasher (a Brother? Is there a term that can be used here?) since the original title, and I love the new iterations, it's just, well, there are some things that drive me nuts. Minor things, but still.
In no particular order:
There's no "restart" option in the pause menu.
For that matter, why have L and R take pictures when ZR and ZL are needed to cancel a match - these are opposing needs, dang it.
And on that topic, why is photo-taking automatic? It asks if I like a photo, but it doesn't let me cancel an accidental photo before saving it.
It's unclear which fighters have cleared Classic or All-Star mode on the 3DS.
Unlocking characters was part of the fun on previous versions, but on the Wii U only a few characters remain to be unlocked (and unlocking them is a bit too easy).
Master Core is such an undertaking that sometimes it would be nice to play through Classic mode on a decent difficulty without automatically fighting him (it?).
I actually liked Smash Run on 3DS. There should be a similar game option on the Wii U (and no, Smash Tour is not that much fun).
Stage Builder is great, but why are there only a few items available (as opposed to the numerous choices in Brawl)?
For that matter, couldn't they have included a snappable grid to aid in stage design? It's like they never heard of AutoCAD. NilesFloyd says it does exist!
Players can design massive levels, so why can't they be used in 8-Player Smash?
While we're at it, big levels make sense for an 8 player game, but Palutena's Temple and The Great Cave Offensive? Yeesh. Can't even find myself on that map.
Or, heck, if you are going to have stages that big, why not allow 3DS or Wii U pad players to see their characters up close?
The greatest Smash Bros. stage hasn't been brought back yet.
Why aren't Mii costumes universal? I want my sword-swinging, vampire-killing Lincoln to wear a suit, but only the gunner Mii can wear a suit. Lincoln with a cyborg arm isn't as cool as I'd've thought.
The Ice Climbers are missing.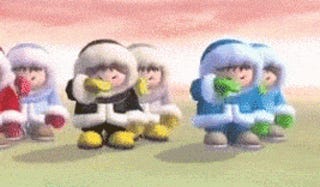 Well, those're my gripes - still love the game - you guys have any nits to pick?