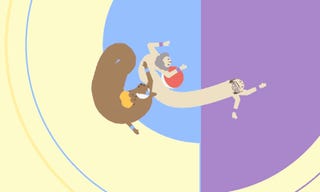 There's a free video game expo in Austin and you aren't there - but dozens of game developers are showing off their wares. Of particular interest: offline multiplayer games. Why plug into the net when friends can game from the same couch?
"There's been a resurgence in the local multiplayer scene in the last few years," said Australian game creator Jake Strasser at the SXSW Gaming Expo in Austin, Texas - a three-day event that began Friday.
The Adorable Ugly Naked Wrestling with Friends Game
The push for more offline multiplayer encouraged Strasser, a film major, to team with a few art majors and a self-taught programmer to make one of the most (unintentionally?) disturbingly cute games in recent years. Somewhere between Catdog and Human Centipede exists this sumo soccer video game.